Consumer revenue for e-books is estimated to grow to $18.9 billion in 2018. That is a steep rise from the $8.4 billion that was estimated in 2013. Clearly, despite the rise in demand for print books, e-books have been maintaining their stance in the industry. And that has not gone unnoticed in different fields.
Many businesses and corporations in the financial sectors, marketing and advertising, medicine and real estate now actively write and sell e-books to connect with their audience and provide them with a slice of knowledge that only they can offer. However, this does beg the question; how did e-books become so popular for promoting business?
The simple answer is information.
The Informational Viewpoint of E-Books
People want information, and they want it the easy (read: affordable) way.
E-books are simple and affordable packages that provide valuable information for little money and even less effort. E-books offer charts, links to different websites for further information, illustrations and everything else—all this is delivered online. This means videos, audios and images as well.
 Promoting Your Business with E-Books
Before selling your e-book, make sure it is relevant to the topic and offers a wealth of expertise. You can write about anything industry-related, but do your research to make sure that the subject hasn't already been dealt with. Your e-book should offer valuable information which readers cannot get from other sources.
Your aim is to offer generous content and insider knowledge that would benefit the reader practically. Once you have such an e-book, here are several steps you can take to promote it.
Work with an Influencer
Collaborating with influencers from your industry is a classic method of marketing and promotion.
As professionals in the arena, they have an audience that would trust their judgment and endorsement of your book.
Work out a plan and consider featuring them in your book as well. Their recommendation and opinion will definitely boost your book's reputation.
Give Free Copies to Subscribers or Guests
Want your book to go viral?
Start a marketing campaign where customers can get their e-books for free. Everyone likes free stuff. By generating the best content and offering that content free-of-charge, you'll have more people queuing up to get your book.
Offer free e-books in the form of downloads to attract more customers.
Offer Preview Chapters before Release
Offer visitors a sneak peek into the book.
Preview chapters are tempting and more often, if the customer likes what they read, they'd be more than willing to sign up to newsletters or pay a little fee to read the rest of it.
Add Multimedia to Make an Engaging E-Book
To increase sales, start adding free trials for audio and video products and interviews. Fun and engaging e-books with audio and video media embedded in the content makes for more marketable e-books.
Put your company's staff to work with media creation, or go to professionals and explain to them how they'll benefit from participating in this venture.
Use the Right Platform to Sell Your E-Book
While some companies like to offer their e-books directly from their website, it's much better to use an e-book marketplace such as ChatEBooks.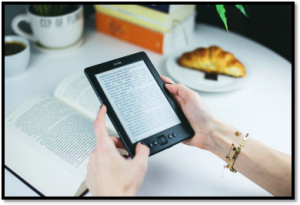 As a dedicated platform for readers and authors, this website allows both to interact with each other on an interpersonal level i.e. direct feedback in real-time from readers who want to know more.
By using the information above and a reliable e-book store, you'll have everything you need to bring more customers to your business by effectively selling your e-books.
Please follow and like us:
How to Effectively Use an E-Book to Promote Your Business
Comments Rating
( reviews)