An American bestselling author, Nora Roberts has pretty much defined the romance genre, working within a wide variety of fields. These include suspense to futuristic romance and even the paranormal. Roberts, who also writes as J.D. Robb, has written over 200 books during her lengthy career.  59 of her works have debuted in the #1 spot on the New York Times bestseller list.
Best Nora Roberts Books
Considered a publishing phenom, Roberts has more than 400 million copies in print worldwide. So it was everything but easy to compile a list of the best Nora Roberts Books, as there are just too many to choose from. Nevertheless, the following books have received more critical acclaim and audience support than most of Roberts' other works. ChatEbooks lists down 10 of the best Nora Roberts books:
Buy on Amazon
1. Vision in White (2009)
The first book in the Bride Quartet, Vision in White is a cute and light-hearted story about a nerdy man that falls for a wedding photographer. Carter Maguire is hardly the sort of man Mackenzie Elliot would date. Carter finds Elliot at a point in her life when all she wants from the world is a casual fling.
Buy on Amazon
3. Born in Fire (1995)
The first novel in the 'Born' Trilogy, published in 1995, follows Maggie Concannon, a fierce, volatile-tempered glass maker. Maggie struggles against her burning attraction for Rogan Sweeney, a gallery owner from Dublin promising to make her a star. Born in Fire may not be considered one of the best Nora Roberts books in the trilogy, but it is a perfect entrance into one of her best trilogies.
Buy on Amazon
5. Sea Swept (1998)
Cameron Quinn is a champion boat racer that is forced to come home after years spent traveling the world and wasting his winnings on wine and women. His dying father wants Cameron to care for a strange young boy called Seth. Cameron's independence is quickly stifled as he faces new challenges and struggles against old family rivalries and resentments. Some think Sea Swept might be one of Roberts' best because of the intriguing stories that surround the romantic plot.
Buy on Amazon
7. Northern Lights (2004)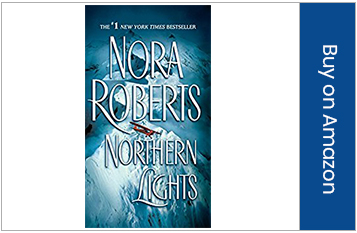 A former Baltimore cop flees to Alaska after the death of his partner. There, he finds love with a bush pilot. One of the best Nora Roberts books by far, Northern Lights doesn't follow the typical romance formula. Instead it utilizes a unique setting to create suspense and mystery amidst the romance.
Buy on Amazon
9. The Witness (2012)
12 years ago, Abigail Lowery escaped the controlling hand of her mother, let loose for one night and witnessed something horrific. Her attempts to stay under the radar attract the attention of the local police chief of the small town she now calls home. The Witness is one of those rare yet perfect standalone Nora Roberts novels.
11. Sacred Sins (1987)
Dr. Tess Court is one of Washington, D.C.'s top psychiatrists. However, she wants nothing to do with a case involving a serial killer plaguing the nation's capital. Through police persuasion, Dr. Court takes the cases, working with the charming and sexy detective, Ben Paris. Detective Paris's troubled past and disdain for psychiatrists puts him at odds with his new colleague. Still, he must work with her to track down the crazed killer known as "The Priest," a madman who claims to absolve sins by killing people. As the doctor and the detective work the case, a passion grows between them, as does the danger surrounding them.
13. Hidden Riches (1994)
Nora Roberts takes her readers to Philadelphia where antiques dealer Dora Conroy has spent her life honing her skills at finding treasures amongst trash. Dora discovers a recent purchase is actually a priceless collection. It's a treasure trove which an international criminal will do anything to acquire. Dora's new neighbor, Jed Skimmerhorn, is a former police officer. Jed puts himself into harm's way as both he and Dora fight the passion growing between them. Will their love grow or will the criminal steal the treasure and their lives? Hidden Riches is intriguing for its mystery and for Ms. Roberts' use of the city of Philadelphia and the world of antique dealers.
15. The Obsession (2016)
After Naomi Bowes followed her father into the woods, she discovered a blood-curdling secret that scarred her soul. Now an adult, Naomi works as a photographer yet struggles with the terrors of her past. When she decides to give in to romance with a local named Xander Keaton, she struggles to trust him as her past threatens to ruin everything. The Obsession is a tale of light and darkness that will horrify you at times and lift your spirits at others.
17. Angels Fall (2005)
The book title's clever play on words is just the beginning of an engaging mystery. Reece Smith, the survivor of a brutal crime, relocates to Angel's Fist, Wyoming, hoping to find healing and recovery. However, she witnesses what appears to be a horrific murder, only to find the police can't find any trace of a corpse. And the only person who believes her story is an abrasive loner named Brody. Reece finds herself endangered and only Brody seems willing to help her. Can she trust him and will he be able to help her from the killer who's set their sights on her? Angels Fall is often listed as one of her best and after you read it, you'll know why.
19. The Pagan Stone (2008)
While many of Ms. Roberts' trilogies focus on women, the Sign of the Seven trilogy deals with three men. These men are linked by strange events that began during a childhood camping trip at The Pagan Stone. Somehow, Caleb Hawkins, Fox O'Dell, and Gage Turner accidentally released a demonic force onto the town of Hawkins Hollow. As a result, strange events transpire every seven years on the seventh day of the seventh month. 21 years later, the men fight to free three women from a cursed ancestry. Meanwhile, the diabolic forces threaten everything the three friends care for.
Buy on Amazon
2. Blue Dahlia (2004)
The first book in the 'In the Garden' series, published in 2004, Blue Dahlia is a fantasy, romance novel about a recently-widowed woman that falls for a landscaper. However, an unidentified figure only known as the Harper Bride isn't happy with the couple's burgeoning relationship. Her rage allowed her to reach beyond the grave to wreak havoc upon the lives of the two lonely souls.
Buy on Amazon
4. The Next Always (2011)
After years of fluctuating war and peace, the historic hotel in Boonsboro is receiving a major facelift from the Montgomery brothers and their eccentric mother. Clare, a widowed mother of three, returns to her hometown and finds herself immediately drawn to Beckett (one of the Montgomery brothers) and the transformational work he is doing to the old inn across the street. Within the inn, an extraordinary adventure awaits Clare.
Buy on Amazon
6. Dance Upon the Air (2001)
Nell Channing runs to the charming Three Sisters Island to escape her abusive husband. Dance Upon the Air is considered by many to be one of the best Nora Roberts books because of all the tension it generates – with Nell struggling to create a life that the demons of her past threaten to shatter at any moment.
Buy on Amazon
8. Montana Sky (1996)
Jack Mercy's daughters are strangers to one another. If they want to inherit his money, they must learn to live as a family. Montana Sky brings three amazing stories about three heroines together in a single book. It is the perfect representation of the romance genre and Roberts' particular style.
Buy on Amazon
10. River's End (2011)
River's End is a sad story about a girl that cannot completely remember the horrific death she witnessed and the man that has been in love with her for most of his life. With River's End, Roberts discards the cute plots and happy stories she is known for and instead delves into the darker facets of the romance genre.
12. Public Secrets (1990)
One of Ms. Roberts' most popular novels, Public Secrets tells the story of Emma McAvoy. Emma found herself being rescued from an abusive mother by the father she never knew. Her estranged father happened to be a pop music star whose career was taking him to new heights. Years later, Emma has put the incident behind her. She begins planning her own incredible career along with an upcoming wedding to the man of her dreams. However, when the man turns out to be hiding dangerous secrets, she finds her present may be even more dangerous than her past. This story is about more than a mystery, it is a realistic family drama that combines romance and mystery.
14. Birthright (2003)
With Birthright being one of the best Nora Roberts books, Roberts demonstrates that she's no one-trick pony. The book is a thrilling mystery involving a 5,000-year-old skull discovered at a construction site. The mystery brings in archaeologist Callie Dunbrook, who finds herself reunited with her annoying, but irresistible ex-husband Jake. Callie has little time for romance however when a mysterious woman tells her she has secrets about Callie's past. And not just any secrets, these are skeletons that may ruin everything Callie has worked hard to build.
16. Whiskey Beach (2013)
When Boston lawyer Eli Landon finds himself accused of murdering his wife, he travels to Bluff House. It's there that Eli seeks solace from the intense public scrutiny surrounding him, despite no charges being filed against him. Landon finds comfort from Abra Walsh, Bluff House's housekeeper, yoga instructor, jewelry maker, and woman of many other talents. With Abra's help, Eli uncovers a centuries-old mystery somehow linked to the man seeking Eli's destruction. This book comes in at 512 pages so have some coffee brewing as you probably won't be able to put it down.
18. Blue Smoke (2005)
Strong female characters are a trademark of some of the best Nora Roberts books as seen in Blue Smoke. This story is about Reena Hale, a woman who now works as a fire investigator after losing everything in a fire that consumed her family's pizzeria. Hale's rocky love life seems to change when she reunites with Bo Goodnight, a man who's carried a torch for her for years. However, another man with a torch threatens Reena when he begins stalking her and setting fires to draw her into an inferno she may not escape.
20. Morrigan's Cross (2006)
Morrigan's Cross is one of the most fantastic trilogies and among the best Nora Roberts books listed in her bibliography. The Circle Trilogy begins with a tale involving Hoyt Mac Cionaoith, a medieval sorcerer. Hoyt is devastated by his twin brother's corruption by Lilith, a centuries-old woman who steals the souls of men with just a kiss. The vampiric Lilith sets her sights on taking control of the world. In response, the goddess Morrigan tells Cionaoith to assemble five other beings to form a circle of power against Lilith. Now, Cionaoith must use his magic to travel to the 21st century and assemble his allies. His entourage – his vampiric brother Cian, New York City native Glenna, a red-headed Wiccan, Morea, a princess from Gael, vampire-hunter Blair, and shape-shifter Larkin. This tale combines many elements of fantasy fiction into an exciting tale of romance and adventure.
It's impossible to reduce the Nora Roberts' best books to a list of this size.  There are many other good books such as The Reef, True Betrayals, and Carolina Moon.  However, we hope this gives you a starting point to explore her many entertaining and amazing works. You'll enjoy the books listed above (including the subsequent books in the trilogies). There is a good chance you'll be looking for many more of Ms. Robert's books once you finish your first.
Please follow and like us: