There are so many reasons to join an online book club. One, it's a great way to be introduced to new books, some of which you may not have read otherwise. Book clubs also give you the opportunity to meet new people who share your passion for reading. For these reasons and more, book clubs have become a big deal today. They are trending to such an extent that even celebrated personalities have joined the bandwagon by starting their own book clubs.  
10 of the Most Popular Online Book Club Platforms
Because of online book clubs, more people have turned to reading as a hobby, even making it a part of their daily routine. But with the abundance of book clubs online and offline, it may be difficult to choose which book club would suit you best. Fortunately, ChatEbooks lists down some of the most popular ones you should check out.
Oprah's Book Club 2.0

One of the most popular celebrity online book clubs of all time is Oprah's Book Club 2.0 (in partnership with Oprah Winfrey Network and O: The Oprah Magazine). Oprah's 2.0 book club is the re-launch of the original Oprah's Book Club which officially ended its 15-year run along with The Oprah Winfrey Show in 2011. The book club incorporates the use of social media (Facebook and Twitter) in group discussions and other digital communication.
Oprah dominates in every field she explores and books are not different. Millions of readers across the world still hang on Oprah's every word, waiting to find out about her next pick so that they can devour it and discuss it with other Oprah fans.
BBC World Book Club
BBC World Book Club aims to bring the broadcasting service's listeners together within a space where they can discuss some of the most critically acclaimed books from the past and the present. The book club invites authors onto their platform and allows listeners and audience members to question them on the different aspects of their books.
Goodreads
Goodreads is one of the biggest sources of literary opinions and reviews on the internet. It is also one massive online book club, bringing together a litany of other smaller book clubs held within its confines. The website invites readers to congregate under its umbrella and read. 
Reblog Book Club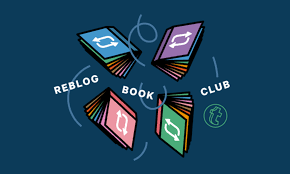 While bloggers have previously hosted book clubs on the microblogging site Tumblr, the Reblog Book Club is the first book club founded and moderated by Tumblr itself. Each week, Tumblr features a book and users who are interested to participate in the book club discussions can add posts about the book in whatever way they choose – a written review, video blogs, fan art, GIFs, poems, letters or memes. In the same way, users can reblog other members' posts to add their own thoughts and responses.
RWBookClub
Reese Witherspoon is another celebrity making waves in the literary arena. RWBookClub engages readers who love literary fiction and want to keep up with popular book trends. It should be noted though – RWBookClub is more of a suggested reading list than a formal book club. Witherspoon frequently posts reading suggestions via her Twitter and Instagram account. Readers, in turn, share their opinions and start discussions about her book selections.
Our Shared Shelf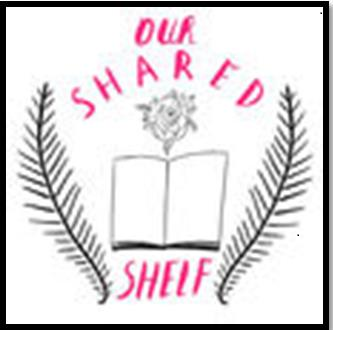 Established by Emma Watson in January 2016, Our Shared Shelf is a massively popular feminist book club with a huge following. Driven to pursue feminist literature as part of her work with UN Women, the book club has popular members, including celebrities Lena Dunham and Sophia Bush.
The Random Book Club
The Random Book Club is a unique and highly creative online book club. Based in Scotland, the book club's administrators send you a surprise hand-picked book from a second-hand shop in the country every month. This gives you the opportunity to discover something completely new that you might never have picked up for yourself.  You get to keep the books, so you are required to pay an annual membership fee.  Your membership will also give you access to their online chat group. 
A Year of Books
This is probably the biggest online book club in the world. Started by Mark Zuckerberg in 2015, the Facebook-driven book club has an estimated 30 million followers. These followers look forward to consuming and discussing literary material personally chosen by Zuckerberg.
Bookish
Launched in February 2013, Bookish is a social media site that connects readers with books and authors, offering information on upcoming books and personalized recommendations. Similar to Goodreads, Bookish presents readers a plethora of book titles and genres to choose from. Readers can add books to user-created digital "shelves", rate and review books, participate in chat groups, read author interviews and get book recommendations. Bookish also functions as an e-commerce site where readers can purchase print books, ebooks and audiobooks.
ChateBooks Facebook LIVE Book Club
ChateBooks Live Book Club combines the intimacy of a fireside chat with the sensation of community engagement that social media has to offer. We are a group of book lovers who LIVESTREAM our book discussions to our virtual members on Facebook.  We invite members to brew a cup of tea or pour a glass of wine  and join our discussions on relationships, love, parenting, intimacy, fear, and all of the gazillion hot topics that a good book can afford. Find out more here:https://mailchi.mp/1620a2ac57d5/chatebooks-live-book-club
There has never been a better time to join an online book club. Book clubs have become a popular entertainment medium and are trending among many social circle gatherings both online and offline. There are so many of them to choose from that you are sure to find one that appeals to your particular tastes. 
Please follow and like us:
10 Most Popular Online Book Club Platforms
Comments Rating
( reviews)